The Opportunity


DailyCandy, the online media company, was in need a new Media & Advertising Sales guide, while their current in-house designer was on a leave-of-absence. For that, they turned to me to create a fresh look while adhering to current brand standards.
The Services
Design: Collateral
Tools: Photoshop, Illustrator, InDesign, Acrobat
​​​​​​​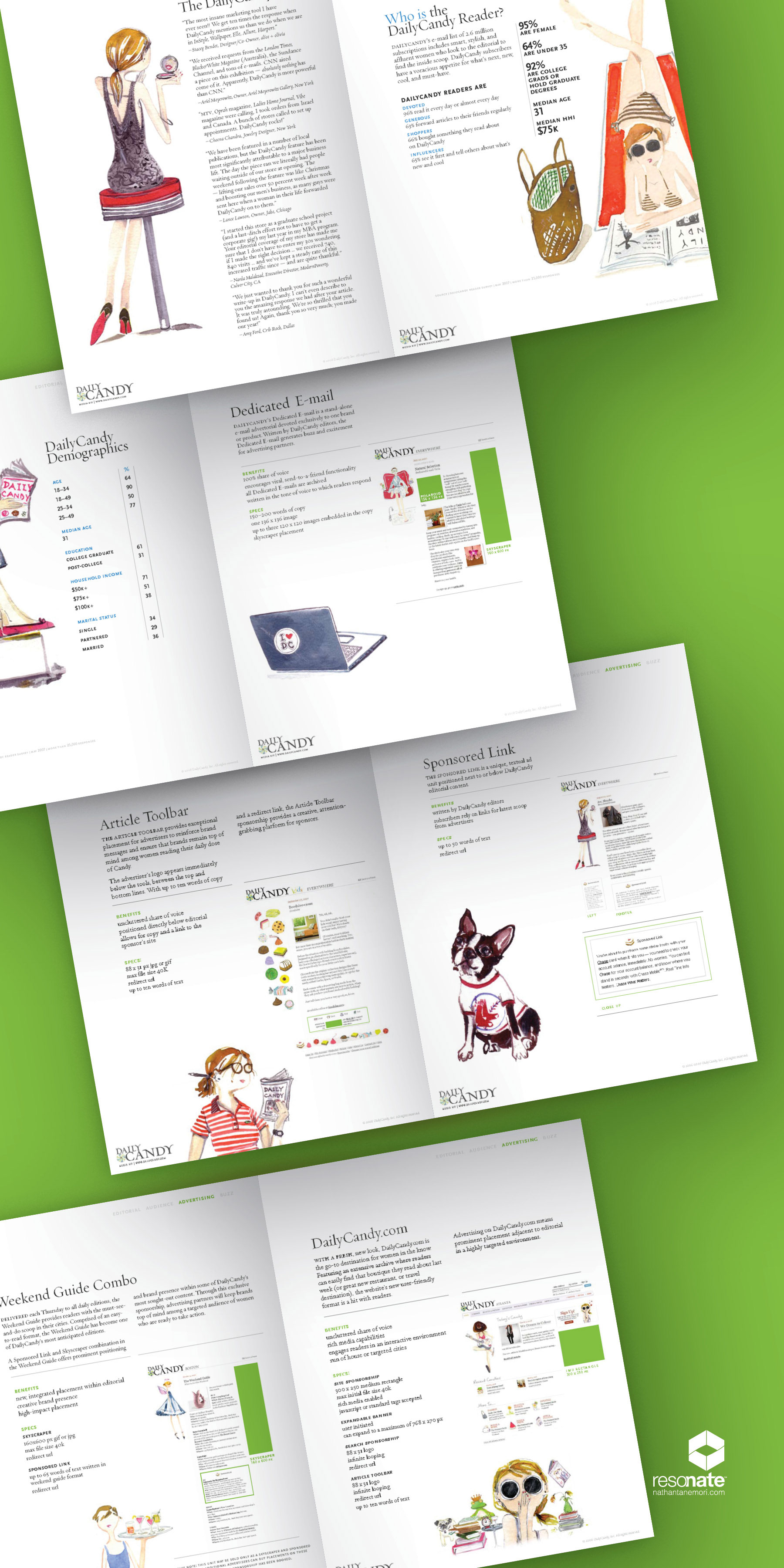 The Partnership
The scope of the project was simple and straightforward: Create the guide with an updated look, but don't stray far from the company's current branding—and be quick on turn around time, of course. I receive and execute these RFP's all the time.
I was able to get started immediately after gathering everything I needed, such as logos, corp color palette and fonts, all content (images, copy, charts, etc.) The illustrations were supplied for me. 
My job was to assemble and figure out how and where everything would go in each layout or page. The piece was to be printed, and an online PDF was to be made available for download or emailing out once the guide was finalized.
The Result
Understanding grid systems really makes things easier to drop content into place while providing an underlying structure and hierarchy. Once I figured out a grid system that would work for this guide, things moved quickly. The previous guide version looked basically like a stylized Microsoft Word doc with some images, tables and copy—and I think that was more or less their expectation from me. However, working with the right tools (Adobe InDesign), I was able to deliver a far more visually compelling solution.
Bottom line: The project manager was simply elated that I could come through for him on short notice while maintaining a superior level of craftsmanship and aesthetic. I feel the piece is eye-catching, friendly, contemporary, and relevant to their brand and demographic. Ultimately, this would help support sales and drive revenue.